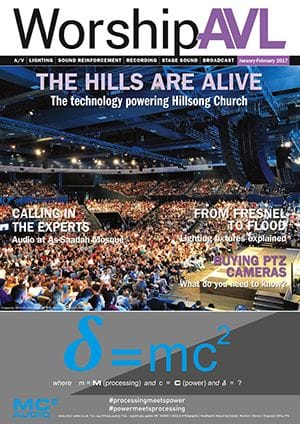 Worship AVL is a bi-monthly magazine which is a specialist title covering audio, video & lighting in the booming house-of-worship market.
CMI has recently been deeply involved in some high-level Adamson installations with Hillsong Church - most recently at their Baulkham Hills campus. The full extent of the installation is detailed in the latest issue for January/February and below is the section pertaining to the churches speaker choices.
---
...Baulkham Hills Convention Centre regularly hosts 4,000 seated worshippers during its Sunday services. As the existing loudspeaker system was earmarked for an upgrade, Hillsong production facilities manager Steve Le Roux insisted that whatever loudspeaker system would be specified to replace it would be rolled out across the Hillsong network both in Australia and worldwide. 'We invited all the main speaker brands for many demonstrations over a period of time,' Mr Le Roux explains. 'It started when we were looking for a new system that would better meet our needs for the city centre worship space in Sydney. At the same time, we knew that there were existing systems in other venues that needed to be upgraded, plus new churches under construction that would require sound reinforcement. It made sense to be incredibly thorough in order to decide upon one manufacturer to work with for everything. We'd already installed Adamson systems in a number of our campuses over the past five years and were accustomed to the intelligibility and clarity of the Y10s. But when we heard the latest Energia E12 system supplied by CMI Music & Audio, the power was incredible it came out the clear winner.'
The new FOH system was installed in late March following an in-house design predicted in EASE. 'The Canadians helped us enormously with the system design following help initially provided by Ewan McDonald. The L-R FOH upgrade combines E12 cabinets with Adamson's recently released E119 19-inch subwoofer. 'The subs are both compact and extremely powerful,' adds Mr Cook. 'They provide serious low end when needed while blending seamlessly with the PA.' The E12 system is further boosted by six ceiling mounted T21 subwoofers operating in cardioid mode and steered down towards the stage. The E119 subwoofers are run in theatre mode and provide just as much LF extension as the T21's. Rack-mounted above on the overhead catwalk grid, Lab.gruppen PLM10000Q amplifiers power the entire system. Dante network cards have been inserted to provide full monitoring and control, whilst redundancy back-up has been added in case of amplifier failure. Finally several clusters of Metrix cabinets have been ceiling suspended for the side and rear-fills.
The majority of other Hillsong sanctuaries planning to install new sound systems are mid-sized venues, which will utilise S10 line arrays and S119 subwoofers for their main sound reinforcement. 'We were impressed with the compact S-Series system,' furthers Mr Lake. 'It clearly stood out after extensive shootout and real world testing scenarios. The sound is very clean, the control in demanding acoustic environments is amazing and the low end capability makes it actually sound like a much bigger system. It handles everything you throw at it no matter how dense your arrangements are, clarity remains impeccable where other systems give up. The music performed at our churches varies depending upon the service. It was important to find loudspeakers that sounded great with everything. After listening to many different demos it was a delight to hear Adamson we knew their products would take us into the future.' ...
Read the full article from page 20 here
---