Posted by CMI Music & Audio on 7 September 2018
Monitor City to Cover the Big Stages with Adamson E and S Series
Melbourne production and install company Monitor City have joined the rapidly growing world-wide list of Adamson PA rental houses with a major investment comprising of E12, S10 & E119 subs, and touring E-Racks, with additional inventory due imminently for the busy summer season. This flagship E Series rig supplemented by S10 is large enough to cover most venues across Australia, and gives Monitor City the flexibility to break into smaller or distributed systems as the business requires.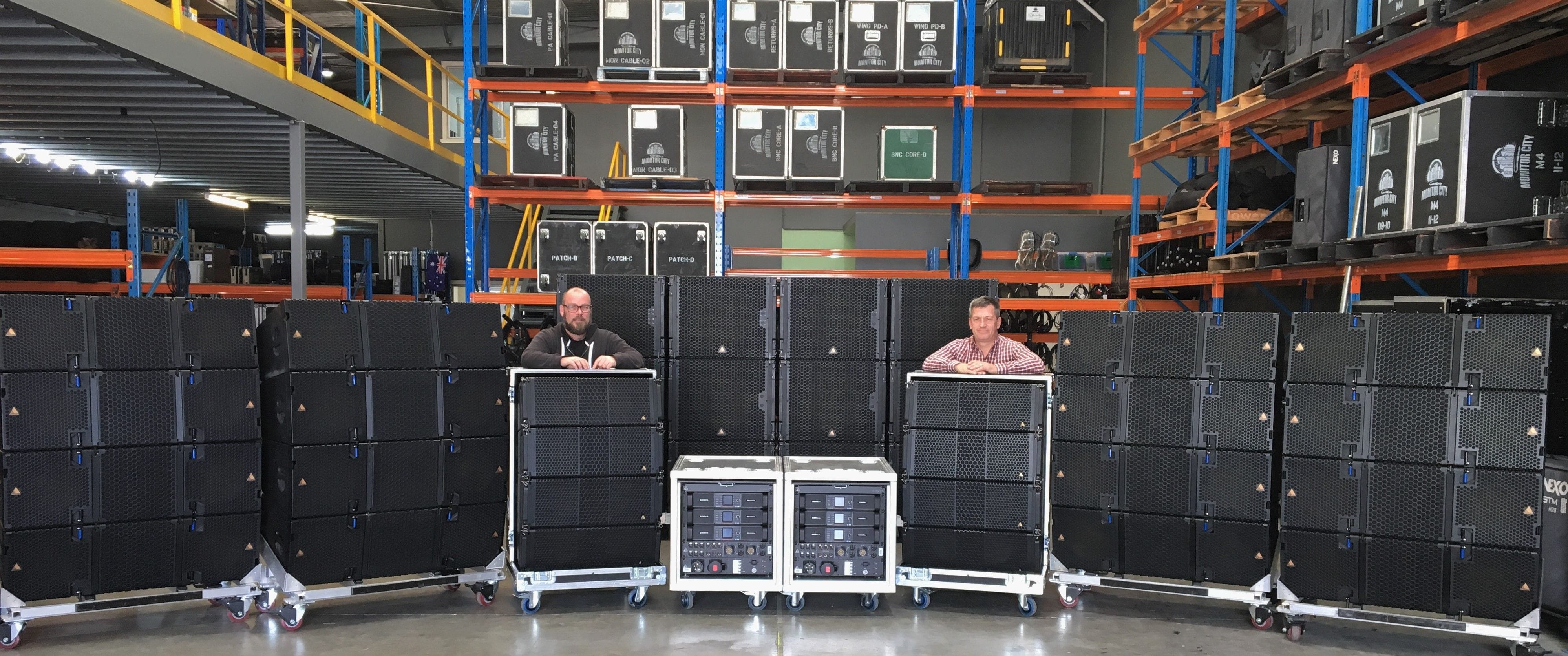 Monitor City was formed in 2006 by Adrian Barnard and Matt Dufty, sound engineers with 30+ years' experience each. Frustrated with their experiences renting equipment, they invested in their own IEM rig and stored it under the stairs. They grew and moved into the garage, then a warehouse, and now service a broad range of clients including the Falls and Unify festivals, local councils, corporate, and theatre, employing eight staff. "Our company culture is one in which everyone is involved and contributes," says Matt. "We care that when you're at a gig, it sounds fantastic. Anything less than that is not good enough."
Adrian and Matt carefully evaluated all the major players in the PA market before deciding on Adamson for their major purchase. "We looked at factors such as the speed of deployment, the logic of the system, its capabilities, and sonic performance," relates Matt. "Adamson stood out as the best choice. It's rider friendly and acceptable to touring professionals, and there's a growing Adamson network globally. This system will cover our festival work in the upcoming summer months, and can then be split into multiple systems. It fits well with the way we do things, and will definitely help us."
"We wanted to be on the leading edge of a product cycle for this kind of investment," elaborates Adrian. "Adamson have a great reputation; it was Jon Lemon, an amazing individual and arguably the best engineer I've ever worked with, who caught my attention when he spoke highly of them. In a market where some of the competing systems are getting older, Adamson represents a point of difference."
In addition to the famed Adamson mid-range performance, practicalities like rigging and transport were high priorities for Monitor City. "It was important to us that the rigging process was both fast and easy," continues Adrian. "With the Adamson system, we simulate the room, calculate the angles, and our warehouse staff set everything before the contractors even come in. It packs well in the truck, and when it gets to the venue, it hangs fast. It's a real advantage for us pre-set it, roll it in, pull it up, and it falls into the angles, rather than needing compression. I saw a video of two people hanging one side in six minutes; it'll be a while before we get that fast, but it's something to aim for!"
The Adamson E12 is a 3-way line array enclosure, running two ND12-S 12" Kevlar neodymium drivers in the LF, a YX7 7" Kevlar neodymium driver in the MF, and a NH4TA2 4" diaphragm / 1.5" exit compression driver in the HF. Its modular aircraft-grade steel Autolock rigging system mounts onto the patent-pending skeletal structure, which houses the ultra-efficient mid-high components coaxially mounted on Adamson's modified E12 Co-Linear Drive Module.
The E119 Subwoofer is fitted with a light weight, long excursion, 19" SD19 Kevlar neodymium driver. It employs a dual 5" voice coil for exceptional power handling, and is mounted in an ultra-efficient front-loaded enclosure, designed to reproduce clean, musical, low frequency information.
The S10 is a 2-way, full range line array cabinet containing two ND10-LM Kevlar neodymium drivers and an NH4TA2 1.5" exit compression driver. The S10 produces a slightly curved wavefront with a nominal dispersion pattern of 110° x 10° (H x V). Patent-pending Controlled Summation Technology further eliminates low-mid lobing normally associated with 2-way line source systems.
Monitor City's Adamson E-Racks are each equipped with three Lab.gruppen PLM+ series amplifiers, featuring Lake processing and Dante audio networking functionality. They include Cisco SG300-20 switches which exceed the performance benchmark set by Audinate, and Adamson has set specific configurations designed to optimise transmission of Dante signals and Lake control data.
Monitor City will be supported throughout the life of their investment by Adamson distributor, CMI Music and Audio. "CMI are really excited by Monitor City's decision to choose Adamson, making them the first Australian-owned production company to join the rapidly growing E Series global touring family", remarks Lee Stevens.
"It's been great working with Lee Stevens and the CMI Audio team on this purchase," offers Matt. "They've provided really good support, and are very responsive, which is essential when a business is making a decision on capital expenditure this large. It's vitally important when working on this scale that you've got excellent support from both the distributor and manufacturer. This is just the beginning of a long-term investment, and I know that CMI Audio and Adamson will work with us every step of the way."