Posted by CMI Music & Audio on 7 September 2018
Introducing Apollo X. Designed for Excellence in Every Detail.
Our new flagship Thunderbolt 3 audio interfaces, featuring elite-class A/D and D/A conversion, new HEXA Core UAD plug-in processing, Unison mic preamps, +24dBu operation, Surround Sound,* and more. All in a sleek, expandable Thunderbolt 3 package for Mac and PC.
Get all the details via their website here.
*Surround Sound Support for Apollo X Coming Q4 2018.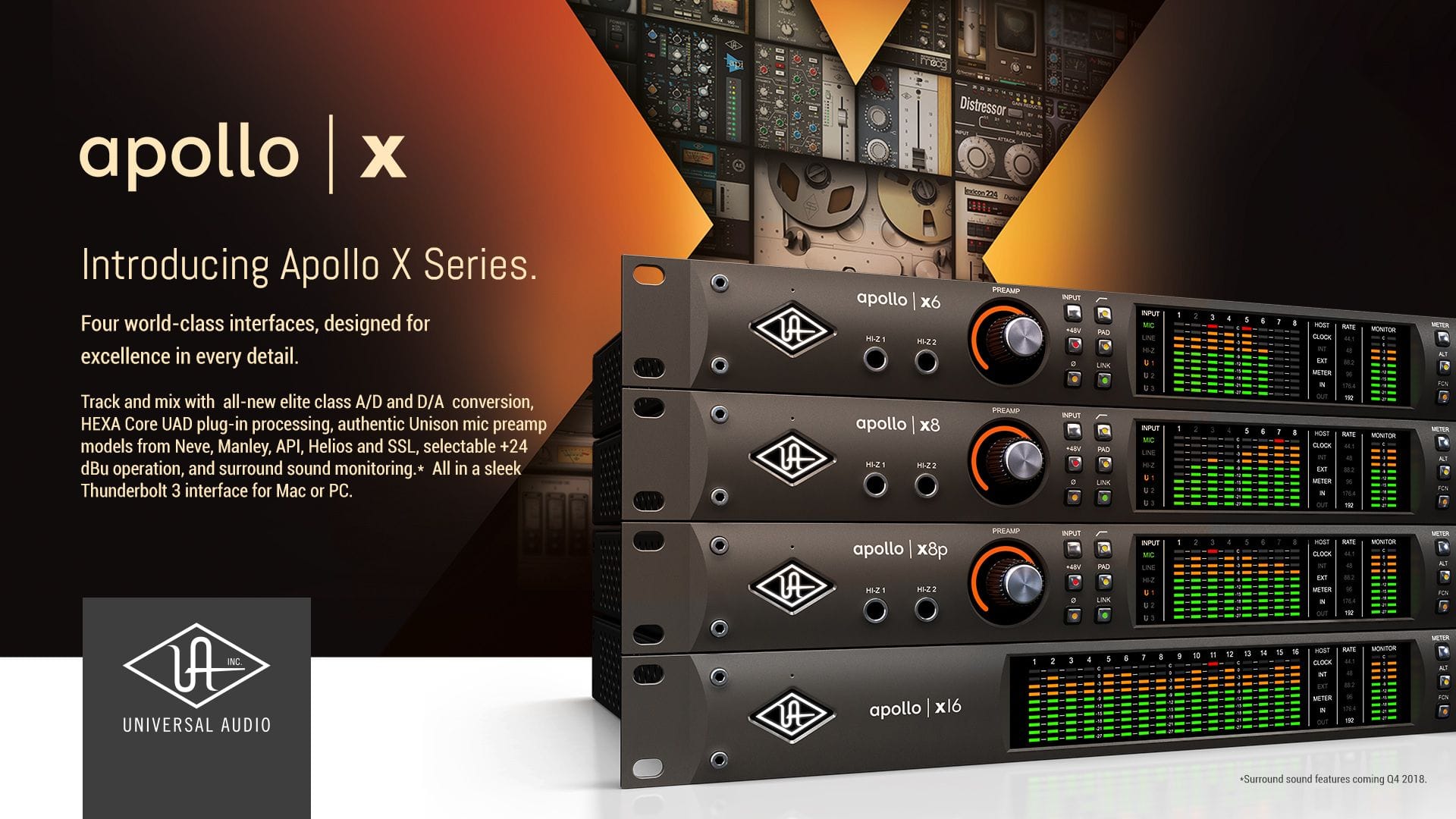 Apollo x6
Perfect for electronic music and post production.
16 x 22 Thunderbolt 3 audio interface for Mac and Windows
Elite-Class conversion with 129 dB D/A dynamic range
2 Unison-enabled mic preamps
HEXA Core UAD plug-in processing
5.1 Surround Sound monitoring
Apollo x8
The new worldwide standard for music production.
18 x 24 Thunderbolt 3 audio interface for Mac and Windows
Elite-Class conversion with 129 dB D/A dynamic range
4 Unison-enabled mic preamps
HEXA Core UAD plug-in processing
7.1 Surround Sound monitoring
Apollo x8p
Built for tracking larger projects with more mics.
18 x 22 Thunderbolt 3 audio interface for Mac and Windows
Elite-Class conversion with 129 dB D/A dynamic range
8 Unison-enabled mic preamps
HEXA Core UAD plug-in processing
7.1 Surround Sound monitoring
Apollo x16
Our flagship converter for commercial studios.
18 x 20 Thunderbolt 3 audio interface for Mac and Windows
Flagship conversion with 133 dB D/A dynamic range
16 channels of analog I/O via DB-25 connectors
HEXA Core UAD plug-in processing
7.1 Surround Sound monitoring