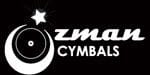 Ozman Cymbals offer a huge range of pro-quality cymbals that blend time-honoured hand-made craftsmanship with the finest quality materials to produce cymbals with pure natural tones bursting with colour. Ozman offer both single units across three series; and great-value cymbal packs across a selection of alloys and configurations that offer something for every drummer.


The three varieties of Ozman cymbals are:
Regular series: lathe shaved cast cymbals produce an explosive high and bright variation of tones
Regular Brilliant Series: polished finish cast cymbals produce a warm and broad tone
Hand hammered Brilliant Series: these cymbals have well balanced overtones with the warmth and broader tone of a Brillant finish.
Ozman also manufacture a great range of percussion mallets and sticks which can also be found here.
For more info, contact CMI's drum specialist, Paul Mowson on 0408 835 895