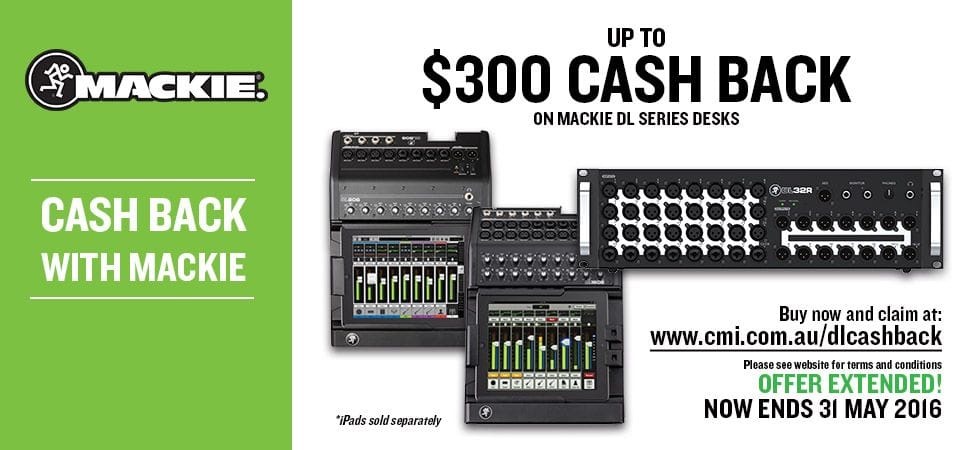 ---
Mackie DL Cashback - OFFER EXTENDED TO 31 MAY!
Up to $300 cash back on Mackie DL series desks.
To claim your specified cashback simply fill in the form and return it with a copy of your store or online receipt to:
Mackie DL Cash Back CMI Music and Audio: 36-38 Export Drive Brooklyn Victoria 3012
Download form here
---
Find your nearest participating dealer:
WA

Kosmic Light & Sound -
Osbourne Park
0892 047577
94 Hector St
OSBORNE PARK, WA 6017, AU

VIC

Soundcorp
03 9694 2600
2/570 City Road
South Melbourne Victoria 3205
Factory Sound
1800 816 244
75-85 YORK STREET, SOUTH MELBOURNE
VICTORIA 3205

NSW

Belfield Music
02 9642 4450
846 Hume Highway
Bass Hill NSW 2197
Turramurra Music
02 9449 8487
1267 Pacific Highway
Turramurra NSW 2074

QLD

Brisbane Sound Group
07 3257 1040
248 Abbotsford Road
Bowen Hills QLD 4006

ACT

Better Music
02 6282 3199
18 Salamander Court
Phillip ACT 2606
---
Terms & Conditions
1. Participation in this promotion is deemed acceptance of these Terms and Conditions.
2. Information on how to enter and the offer are part of these Terms and Conditions.
3. The promotion is open to individual Australian residents from 9:00am (AEDST) 1st February 2016 and closes at 11.59pm (AEDST) on 30th April 2016 ("Promotion Period").
4. To be eligible for the corresponding cash back, participants must purchase from an authorized Mackie dealer in Australia during the Promotion Period and submit a claim.
5. Eligible Products
| | |
| --- | --- |
| Model | Cash Back Amount |
| Mackie DL806 (30 pin or lightning version) | $100 per unit |
| Mackie DL1608 (30pin or lightning version) | $200 per unit |
| Mackie DL32R | $300 per unit |
6. Only new (not pre-owned) Mackie products will be eligible.
7. Cash back amounts issued are in Australian Dollars inclusive of GST.
8. Claims submission methods: During the Promotion Period, Eligible Claimants must send a completed "Mackie DL Cash Back Form" (Claim Form) to the Promoter enclosing a valid tax receipt. The Claim Form can be downloaded from here.
9. Entries can be submitted from 9am (AEDST) 1st February 2016 to 11.59pm (AEDST) 31st May 2016 ("Redemption Period"). Entries received outside of the Redemption Period will be declared void.
10. Failure to produce the proof of Eligible Purchase when requested by the Promoter will result in the invalidation of that claim and the forfeiture of any right to a cash back.
11. Payment methods:
Cash backs will be paid to the Eligible Claimant named on the claim form within 90 days of CMI verifying the claim by way of receipt and serial number.
Cash Backs will be paid by cheque sent via post to the address listed on the Claim Form.
It is the responsibility of the participant to provide correct details. Delays and non-payment of claims that arise as a result of supplying incorrect name or address are the responsibility of the participant to be accepted as a condition of participating in this promotion.
Cash backs are not transferable or assignable.
12. Eligible Claimants may submit more than one claim provided: (a) only one claim is submitted for each Eligible Purchase; and (b) each claim is submitted separately and in accordance with these Terms and Conditions.
13. Mackie-branded products, whether new or used, that have been sourced by end-users, distributors or retailers from any source other than through CMI Australia (including 'grey', 'parallel' or 'direct' imports) are not CMI products and therefore would not constitute Eligible Purchases.
14. The Promoter reserves the right, at any time, to verify the validity of claimants (including contacting the place of purchase and confirming their purchase) and to disqualify any claimant who submits a claim that is not in accordance with these Terms and Conditions or who tampers with the claim process.
15. Incomplete, indecipherable or illegible claims may be deemed invalid, although errors and omissions may be accepted at the Promoter's discretion. Failure by the Promoter to enforce any of its rights at any stage does not constitute a waiver of those rights.
16. No responsibility will be accepted by the Promoter for late or misdirected claims.
17. The Promoter's decisions are final and no correspondence will be entered into.
18. Nothing in these Terms and Conditions limits, excludes or modifies or purports to limit, exclude or modify the statutory consumer guarantees as provided under the Competition and Consumer Act, as well as any other implied warranties under the ASIC Act or similar consumer protection laws in the State and Territories of Australia ("Non-Excludable Guarantees"). Except for any liability that cannot by law be excluded, including the Non-Excludable Guarantees, the Promoter (including its respective officers, employees and agents) is not responsible for and excludes all liability (including negligence) for any personal injury or any loss or damage (including loss of opportunity) - whether direct, indirect, special or consequential - arising in any way out of the promotion, including (without limitation): (a) any technical difficulties or equipment malfunction (whether or not under the Promoter's control); (b) any theft, unauthorised access or third party interference; (c) any claim or gift that is late, lost, altered, damaged or misdirected (whether or not after their receipt by the Promoter) due to any reason beyond the reasonable control of the Promoter; (d) any variation in cash back value to that stated in these Terms and Conditions; (e) any tax liability incurred by an Eligible Claimant; or (f) use of the cash back.
19. This promotion is governed by the laws of Victoria. The Claimant and Promoter submit to the non-exclusive jurisdiction of the courts of Victoria and the Federal Court of Australia and any courts that may hear appeals from those courts about any proceedings in connection with these terms and conditions.
20. The Promoter is CMI Music and Audio (ABN 51 005 458 195) 36-38 Export Drive, Brooklyn, Victoria 3012 . Phone: +61 3 9315 2244.